PRODUCT DETAILS
Rice bran intermittent alkali refining process, intermittent alkali refining, the crude oil that alkali neutralization, separation of soapstock and alkali refining water washing and drying steps, is squeezed out of rice bran oil refining equipment in the alkali refining pot batch batch a process for the operation. The process is suitable for rice bran oil refining equipment to squeeze out the replacement of plant varieties often use.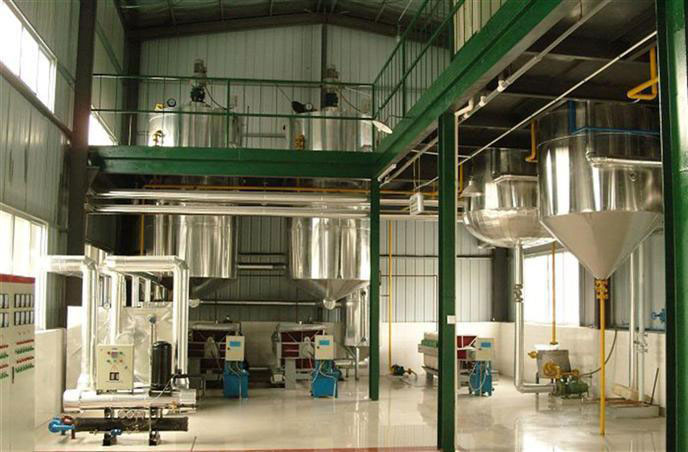 Rice bran intermittent alkali refining process, sub-alkaline and low concentration of alkali light two temperatures . Light soda process temperature as follows:
(l) prepare the filter crude oil (impurity control at 0.2% or less) pump people and the pot, stir, sampling tests acid value sewage enjoy a good amount of water and processing base amount. By indirect steam heating, the oil temperature was raised to about 75'C, while rapid stirring speed 60r / min.
(2) the measurement of the alkali solution and the person spraying the oil uniformly continued rapid mixing, mixing it with the oil. Then the speed is changed to 3. r / min slow stirring for 10 minutes while indirect steam heating, so that gradually warming. After stopping stirring, to Walter compressed air mix, the oil temperature rose to 90 ℃ ~ 95 ℃, drum gas for about 90 minutes. To the oil and soap tablets showed a separate, easy when precipitation. Then, stop and blow, let soap tablets settlement, after standing two one three hours, the soap release, in and complete .
(3) washing with water, with similar or slightly higher hot oil washed with soap divisible correction residual oil and other impurities.
(4) washing the oil dry bath containing about 0.5% moisture. Absolute drying methods and hydration of dry drill rules the same. Such as direct as refined oil, then dried and cooled to below 70 ℃ filter before human library.
Soap contains a neutral oil, the soap hit soap pot, heating salting, maintaining a temperature of 60'C, after standing two hours skimming recycling, recycling oil and the next batch of people to re-alkali refining. Or directly recycled cooking oil refined equipment soap squeeze out the oil inside the centrifuge.
High temperature light alkaline alkaline deacidification for the lowest acid, light color hair oil refining.
(5) intermittent alkali refining equipment are refining pot and pan washing dry-hwan. Refining pot pot generic structure and intermittent hydration. Washing and drying pan structure and intermittent vacuum bleaching pot with similar, but in the mouth of the pot plus an additional lap mains .