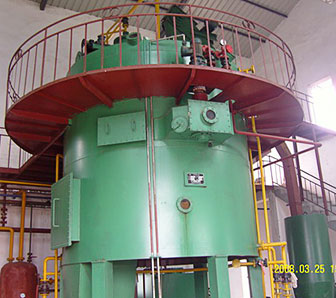 PRODUCT DETAILS
The rotocel extractor works: the transmission to drive the rotor and the rotor material within the rotation by a fixed sprinkler system mixed oil spray, soak, drain,
rinse with fresh solvent in order to achieve the extraction of material oil. After taking the oil feed meal after a feeding device unloaded out.
Rice bran extraction process uses a combination of spray soaking the pan and filter extractor. It is connected together along a peripheral direction of the tank group extractor.
Annular cylindrical shell extractor, there can be rotated horizontal axis of rotation, the cylinder is divided into many partitions grid, each grid is actually a small extractor.
It can be continuous loading, leaching, drain and unloading operations. After steaming fried rice bran material inside the embryo is mounted on the grid, the thickness of about 1.2m, leaching temperature is maintained at about 60. Entering the extraction solvent should be preheated to 45-50,
ratio of solvent to rice bran parison is (1.15-1.25): 1, the speed of the leaching 90-120r / min. Solvent and rice bran meet in countercurrent extractor, extraction cycle,
when the oil content to be solvent reached 18% -20%, will they pump into the filter separator, where the separation of mixed bran meal powder. Bran meal meal from the discharge port.