---
TQLZ Vibration Paddy Cleaner
Vibration type paddy cleaner;
Used to clean the husk, small straws and other light impurities;
Compact construction, good tightness;
Smooth operation and stable performance;
Low power consumption and low noise;
High production efficiency;
Easy on assembling, disassembling and repair.
Model: TQLZ80 TQLZ100 TQLZ125 TQL150 TQLZ200
Description
TQLZ Series vibrating cleaner, also called vibrating cleaning sieve, can be widely used in the initial processing of rice, flour, fodder, oil and other food. It is generally erected in paddy cleaning procedure to remove large, small and light impurities. By equipped with different sieves with different meshes, the vibrating cleaner can classify the rice according to its size and then we can get the products with different sizes.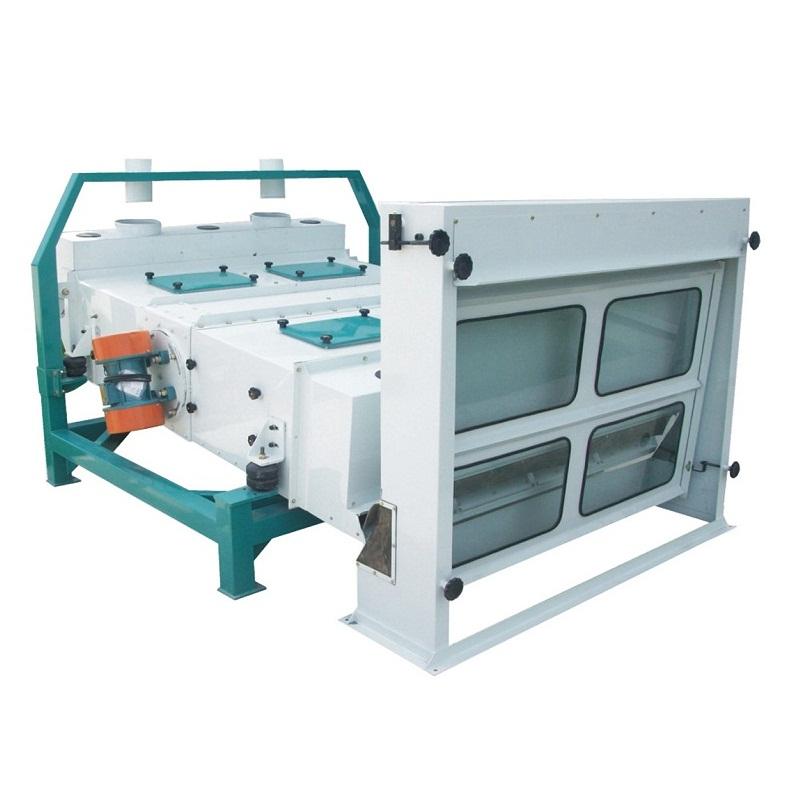 The vibration cleaner has a two-tier screen surface, sealing well, containing large miscellaneous clean-up effect of more food is very good and can also be used for food, chemical industry for particle separation. Different specifications of the screen surface can be used to clean large and small light miscellaneous of wheat, rice, maize, oil-bearing crops, etc.
The vibrating cleaner is characterized by high removing-impurity efficiency, stable performance, smooth operation, low power consumption, low noise, good tightness, easy assembling, disassembling and repair, etc. It also has the advantages of compact construction, high production efficiency, low maintenance requirement, easily removable inspection covers, simple and precise motor alignment.
As a result of the vibration motor drive, the size of excitation force, vibration direction and the screen body angle can be adjusted.

Technique parameter
| | | | | | |
| --- | --- | --- | --- | --- | --- |
| Model | TQLZ80 | TQLZ100 | TQLZ125 | TQLZ150 | TQLZ200 |
| Capacity(t/h) | 5-7 | 6-8 | 8-12 | 10-15 | 15-18 |
| Power (kW) | 0.38×2 | 0.38×2 | 0.38×2 | 0.55×2 | 0.55×2 |
| Air Volume (m3/h) | 3000-3500 | 4000-4500 | 5000-5500 | 6000-7000 | 7000-8000 |
| Vibration Frequency(r/min) | 920-950 | 920-950 | 920-950 | 940-980 | 940-980 |
| Amplitude of Vibration (mm) | 2.5-5.5 | 2.5-5.5 | 2.5-5.5 | 2.5-5.5 | 2.5-5.5 |
| Vibration Angle(°) | 0-45 | 0-45 | 0-45 | 0-45 | 0-45 |
| Sieve Screen Inclination(°) | 0-12 | 0-12 | 0-12 | 0-12 | 0-12 |
| Sieve Screen Width(mm) | 800 | 1000 | 1250 | 1500 | 2000 |
| Total Weight(kg) | 600 | 750 | 800 | 1125 | 1650 |